Facilities & Accessibility
Accessibility
Disabled toilets
Our state of the art disabled facilities can be found on Levels 1 & 3. Accessible from all entrances via lifts located at all entrances and mid-centre. 
We offer the boroughs only "Changing Places" facility built with state-of-the-art apparatus specifically designed and implemented in our shopping centre to provide an extra element of support and independence. Featuring a height-adjustable sink; toilet and bed, along with a privacy screen and a hoist. 
What are "Changing places" toilets?
Changing places toilets are standard accessible toilets that meet the needs of all people with a disability.
People with profound and multiple learning disabilities, as well people with other physical disabilities such as spinal injuries, muscular dystrophy and multiple sclerosis often need extra equipment and space to allow them to use the toilets safely and comfortably. We have ensured that all these needs are met by Changing Places toilets. 
Each Changing Places toilet provides:
The right equipment - Height adjustable adult sized changing bench, a tracking hoist system
Enough space - A centrally placed toilet with room either side and a screen or curtain to allow some privacy
A safe and clean environment - Wide tear off paper roll to cover bench, large waste bin for disposable pads and a non-slip floor.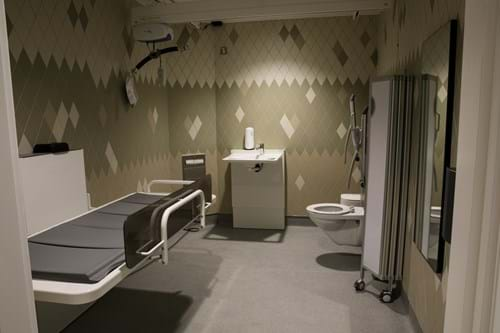 Shopmobility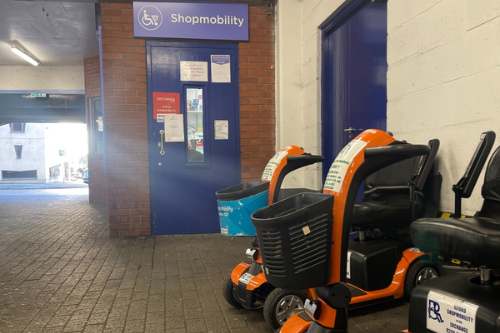 Shopmobility is now open every Tuesday and Friday from 10:30am to 3pm. 
Please call them for more information about the services they provide:
Tel: 020 8478 6864
Shopmobility enables easier mobility in Ilford in the following ways:
Providing powered wheelchairs or scooters and even manual wheelchairs for use around the town centre for anyone with permanent or temporary mobility difficulties.
Sometimes providing escorts to assist you.
Shopmobility is simple and cheap: £2 for members (£10 annual membership fee) and £5 for non-members.
Manual wheelchairs are available for holiday hire (ask for details).

Once you have registered, a member of staff will talk to you about what sort of vehicle you require, and what you will feel comfortable using. Staff at the scheme will then give training. When you feel confident, and the staff are happy that you are in control of the vehicle - off you go! The whole process takes no longer than 30 minutes maximum and in most cases, you will be off in about 15 minutes.
Escorts available by appointment only. Long term loan available on manual wheelchairs only.
Quiet Hour
Our weekly Quiet Hour takes place every Tuesday from 9am - 10am to create a more welcoming environment for guests with sensory sensitivities, autism spectrum conditions and mental health conditions like anxiety.
During the Quiet Hour, there will be no music playing, no tannoy announcements (except in the event of an emergency) and the lights will be dimmed wherever possible to create a calmer atmosphere.
Sunflower Lanyards
These lanyards are universally recognised and can be taken and worn by people with hidden disabilities to signal that help may be required.  Official sunflower lanyards can be purchased from the Hidden Disabilities website - hiddendisabilitiesstore.com


Sensory Packs 
3-5 years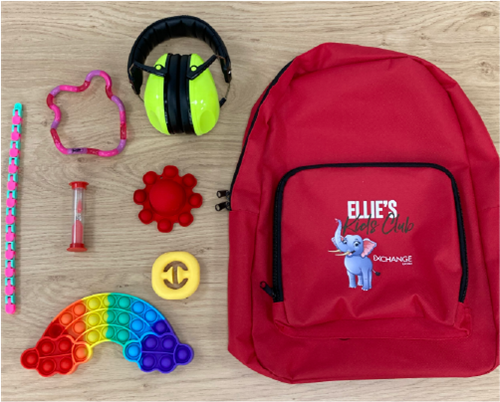 6-8+ years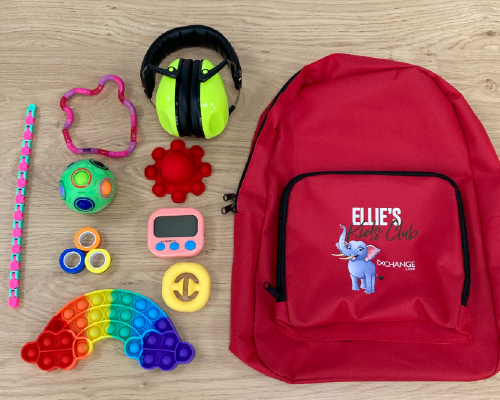 If your child or a young person in your care is autistic or has sensory needs and would benefit from some assistance, we have Sensory Packs available to borrow from our Guest Lounge on Level 1. These packs consist of a red Ellie's Kids Club rucksack, containing noise cancelling headphones, a timer, and a selection of sensory and fidget toys to keep hands occupied and minimise stress. If you would like to borrow a pack for the duration of your visit free of charge, please visit the Guest Lounge on Level 1. Terms and conditions of hire apply, please read them here before visiting and don't forget to bring photo ID.
Toilets
Here at Exchange Ilford shopping centre we have a variety of Disability/family friendly facilities, ranging from a Changing Places toilet, to mother and baby feeding rooms, and much more. 
On Level 1 and Level 3 of our shopping centre you will find colourful, clean and safe toilet facilities available to use for both Male and Female. 
Parent & Child Facilities
As a multipurpose, family orientated shopping centre we are proud to present state of the art, local and looked-after toddler toilets, changing tables, and parent & baby facilities. 
It's no fun for little ones (or you) when they are uncomfortable. Whether a nappy needs changing or some peace and quiet to feed baby is required, our parent & baby rooms are on hand. These are located on Level 1, we have private feeding rooms, soft seating and play areas for the little ones to ensure you can refresh, change and feed your baby in comfort.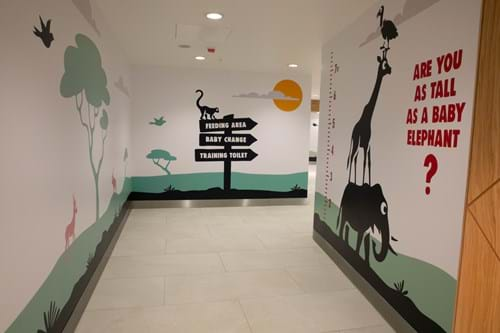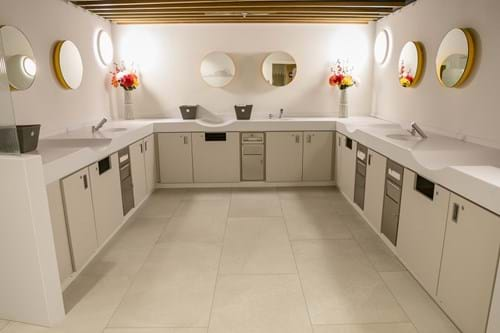 Wi-Fi
Here at Exchange Ilford we have Free Wi-Fi available! When trying to connect all you will need to do is select Exchange Ilford free Wi-Fi and sign up with an email address and make a password.
ATMs
ATMs are situated on:
Level 1 at the Cranbrook Road entrance next to TK Maxx
Level 2 opposite The Fragrance Shop 
Level 2 at High Road entrance next to Costa
For specific locations, please refer to the Centre Directory map.
Phone Charging
Low on battery? Charge on the move at the Exchange with Joos!
Joos allows you to charge on the move, meaning you can always use your phone to stay connected, make payments and more - all without having to wait by a plug in the wall or locking your phone away!
You can pick up a Joos power bank at the Joos Box located under the escalator to the lower level near TK Maxx. Simply download the Joos app on iPhone or Android, use the map to locate your nearest Joos Box and charge while you shop, stress free!
Once charged, you can return the charger to any of the Joos Boxes, either in the shopping centre or in another venue, whichever is the most convenient for you! Simply find your nearest and hit the return button.
Joos allows you to charge safely, too. Between users, Joos power banks quarantine themselves in their protective slot long enough to kill off viral agents. All of Joos' equipment and power banks are also sanitised for extra comfort. But that's not all, the power banks are made with medical grade antimicrobial plastic... for that extra piece of mind.
Joos is located on the Lower Level under the escalator by TK Maxx
Joos terms & conditions
Download from the App Store
Download on Google Play
Videos & Photography
Please note that there is no videos or photos allowed to be taken in the centre or car park without permission from Management. This is to ensure the safety and privacy of our guests and customers while they are visiting us in the centre.
If you would like to do any of these please email admin@exchangeilford.co.uk with details and a member of the management team will get back to you in 72 hours.