For the little ones...
Come and join Ellie and her friends at the Exchange Ilford kids club, designed with the little ones' happiness in mind.
It's a place where all of Ellie's friends meet to enjoy FREE activities such arts and craft and all sorts of special events throughout the year – designed to give parents some time to treasure, while their little treasures are entertained. They'll make lots of new friends, receive a special treat on their birthday and many more surprises!
Wild Cubs Free Play
Let the little ones run wild, whilst you relax, at our Wild Cubs Free Play on level 1 Why not grab a coffee from Costa Coffee and watch on as they explore our African safari themed play area. The play area provides a fun and safe space for children aged 2 and under to play.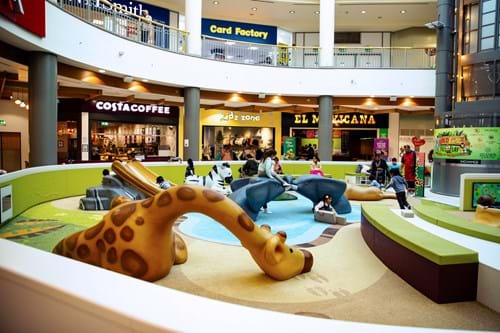 Rules of Play:
1. We recommend that you wear a mask
2. Please use the hand sanitising stations
3. No shoes
4. Please make sure you are wearing socks/tights
5. No food or drink is allowed
6. Children must be accompanied by an adult at all times
7. No photography or filming allowed
8. No Climbing the walls
Opening Times:
Monday to Saturday:
Open: 10am -11:30am
Closed for cleaning 11:30am- 12pm
Open: 12pm - 1:30pm
Closed for cleaning: 1:30pm - 2pm
Open: 2pm - 3:30pm
Closed for cleaning: 3:30pm - 4pm
Open: 4pm - 5:30pm
Sunday: Open 11:00 - 5:00
**You use the free play at your own risk**