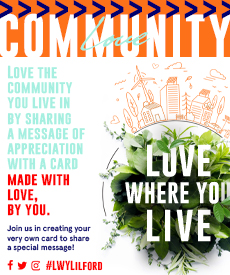 Love Where You Live
Join us this Valentines by showing appreciation for the ones you love or for those in our community who don't always get recognized for the great work they do!
Love Where You Live
Join us this week in showing appreciation to the ones we love or to a special person in your community who is doing amazing work!
There are those out there who are all going above and beyond to help our community through this pandemic by delivering food parcels, or a keyworker who is going to work everyday to keep an essential store open, or a nurse/doctor/paramedic who are working tirelessly to help those in need.
The list is long of all these hero's, and a little thank you will help them to keep going on.
So join us on Wednesday 10th February at 14:00 for our video on how to make a card using items from your home and around you.
We have also added some card template to help with your design, please click here to access them.
Once your card/s are complete, please share them with us on our socials using #LWYLiflord