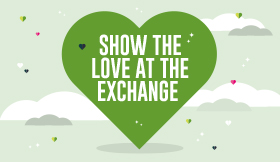 Grow Green this Half Term
Ilford kids are GOING GREEN this Wednesday and Thursday!
We're inviting local children to come down to The Loft on Level 3 and decorate their very own plant pots, and bring them to life by planting cress seeds - they're yours to take home, and after a couple of days you'll be able to cut and eat the cress that will grow!
Come and join in the fun, as part of our 'Green Heart' activity where we take the time to think about our environment. Add your own green heart to our map of Redbridge and help hold our leaders accountable for taking action on climate change.
Plus, there'll be an opportunity to win a £50 eco hamper!