Frequently Asked Questions
General Safety Precautions
What additional measures have you taken to make sure it is safe to shop in the centre?
During this difficult time we are placing the utmost importance on the health and safety of our guests, customers, and employees and have implemented a number of preventative measures throughout the centre since the outbreak of COVID-19. These include escalating the intensity and frequency of our cleaning procedures, providing instructional signage, deploying additional hand sanitisers and encouraging all our visitors and staff to practice good hygiene with regular hand washing. We remain diligent in our approach to the virus and are maintaining an ongoing dialogue with the local health authority as the situation evolves, while adhering to the latest official advice being provided.
There are many other measures in place which are explained in our short video, click here to view.
Will you be temperature checking guests and staff?
Checking the temperature of guests and staff is not part of the government guidelines which means we won't be carrying out temperature checks on entry.
Why is there a one-way system in place?
We have implemented a one-way system to make it easier for everyone to follow social distancing guidelines. Signs and barriers are in place to make it clear how you walk round the centre, and where you can cross-over. You should turn right when you exit stores and follow the routes which are simple to follow and provide easy access. 
General
Will there be a limit to how long I can spend in the centre?
There are no limits to the amount of time you are able to spend in the centre.
How do I get into the centre - has this changed?
Access to the centre is in line with the social distancing measures we have put in place. All entrances have been marked clearly with blue for entry and red for exit. Main routes into our car parks remain unaffected. 
Will there be any changes to the lifts?
Lifts are in operation but subject to social distancing guidelines. We encourage single occupancy or single household occupancy per lift.  When you are considering using the lift, please prioritise space for pushchairs and disabled access.
Are there any changes to the local buses?
Please check with https://tfl.gov.uk/travel-information/timetables/ as their timetables may be subject to change.
What are the centre opening hours?
The centre opening hours are currently 8:30am- 6:30pm, but please check our website for updates on the opening hours, but please check with individual stores for details.
Are there changes to the town centre outside of Exchange Ilford?
The town centre has hygiene stations, stationed at key points around the High Road and Cranbrook Road.They also have signage and designated queuing systems for the stores on the High Road. P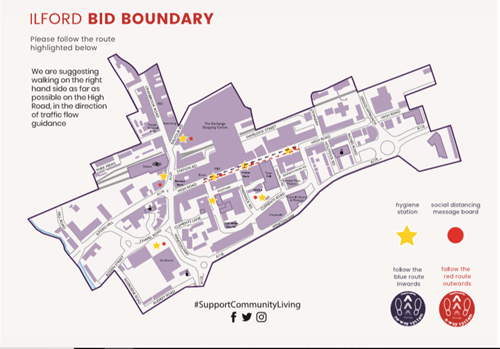 Facilities
Will the toilets and baby change and feeding facilities be open?
The toilets are currently open on level 3. Signage will advise maximum occupancy for each facility. 
Will the Changing places facilities be open?
The Changing places facility on level 1 is currently closed, however if you do need to use please speak to a member of staff and we will be happy to assist.
Will your play area be open?
The play area is currently closed in line with government guidance. 
Will there be seating in the centre? I can't stand for long periods, what support is available to me in the centre and in the queue?
To enable social distancing and prevent the spread of coronavirus, our seating has been temporarily removed. If there is a medical emergency or a guest is struggling, we will assist however we can.
Is the Guest Lounge open?
The Guest Lounge has now reopened. Opening times & more information can be found on the Guest Lounge page in the 'Your Visit' tab.
Where can I buy Exchange Ilford Gift Cards?
We are not currently selling new Exchange Ilford Gift Cards. 
Traffic light system – if the centre is on red and restricting access to the centre
How do staff that work in shops get in to go to work?
We ask anyone that works in the shopping centre to make themselves known to the staff member at the doors and show their uniform, work ID or payslip to be allowed access.
Will you stop cars from entering the car park?
No, but you may be asked to wait at the entrance to the shopping centre or inside your car if that is safer, until we can allow access again.
I am in a vulnerable / at risk group - do I get priority access?
If you are in a vulnerable/at risk group we encourage you to check how busy The centre is ahead of your visit – for information, please follow us on our Facebook and Twitter pages or contact us on 02085 533000.
The centre is open to all guests, however access will be restricted if capacity is reached – if this is the case and you are in a vulnerable/at risk group, please make yourself known to the member of team at the door.  If you are visiting a specific store, please contact them directly to check their policy.
Stores
How do I know if every store is safe to visit?
The Exchange Ilford Management team are working closely with all stores to ensure they are COVID Secure prior to reopening. Stores will display a certificate once satisfied that all measures are in place.
Is cash being accepted at stores or will it be card payment only?
Please check with our individual retailers however, we expect many shops to accept card payment only and you should be prepared to pay by card. 
Do I have to queue for each store?
Due to restrictions in capacity within the stores, queueing to enter a number of stores is possible. 
How can I find out the most up to date store information, and details of store opening times?
Check out the 'stores' tab which has all up to date information on each store. Also, keep an eye on Exchange Ilford's Instagram (@exchangeilford), Facebook (@exchangeilford) and Twitter (@exchangeilford) for the latest updates.
Parking
Is parking free?
Our car parks were free of charge during the lockdown when only essential stores and services were open. All of our car parks have now re-opened and reverted to the normal charging tariffs. Please take a look at the following page for our tariffs
How can I pay for parking?
We ask you to use contactless payment methods wherever possible.