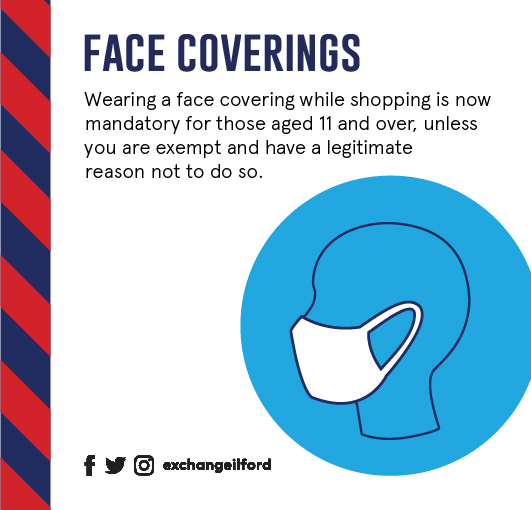 Face coverings are now mandatory
Face covering are now mandatory in shops including inside Exchange Shopping Centre, this is a legal requirement- you can be fined a minimum of £200 if you are caught without a face covering. 
For updates on new government guidelines please visit:  https://www.gov.uk/government/news/coronavirus-covid-19-what-has-changed-22-september
This is the case for all ages 11+ unless you are exempt and have a legitimate reason not to do so.
This is to give people more confidence to shop safely and enhance protection to those who work in shops.
Visitors not wearing a face covering from this date may be approached by our centre team.
You can find more information on this by visiting:
https://www.gov.uk/government/news/face-coverings-mandatory-in-shops-supermarkets-shopping-centres-and-enclosed-transport-hubs-from-friday
Thank you for your cooperation.
A new face mask vending machine has been introduced inside the centre. It's located on level 2 in the street eats area.